The iPad Pro M1 lives up to expectations. So well equipped even materially, that we now have the impression that iPadOS must catch up with it.
Despite an overall design that hardly seems to oscillate since 2018, the 2021 iPad Pro brings a welcome break with previous generations, and with other iPads. We have the impression that Apple has been trying in recent months to give meaning to the term "Pro". The iPhone 12 Pro, and in particular its Max version, has features that will only affect professionals who know how to use them. The Mac Pro is a real tool designed for companies, from development to design, including animation and cinema. The Pro Display XDR completes this nomenclature: it is a professionally calibrated screen, intended for image professionals.
Until then, the iPad Pro was just " the best of iPad ". A sort of luxury for an individual, but one that could be justified. In 2021, we have the impression that, more and more, the iPad Pro is aimed at professionals who know full well what they can do with the tool – and do better with it than with any computer or any other tablet. That's why.
A silversmith's tablet
If I hadn't read the technical documentation for the iPad Pro or hadn't been interested in the industry for years, I don't think I could have listed many reasons for purchasing a 2021 model compared to the one we tested in 2018. Apart from, perhaps, the Home button replaced by a Face ID unlocking in 2020 and the Magic Keyboard, devilishly effective for taking notes and approaching a computer.
But beyond these uses of comfort, it is clearly not sure that a person seeking consumer use of a touch pad needs more than what the iPad Pro offered 4 years ago. Even more than what today offer the excellent iPad Air. But then why is this tablet still present in the catalog and enriched year after year? Because I do not do all the trades and the iPad Pro of 2021 has clearly taken a turn: that of requirements professional.
The screen first, on the 12.9-inch model. For the first time in this format, we are faced with a mini-LED screen. At Apple, it is a Liquid Retina XDR Display. Apart from marketing jargon, it is a screen made up of 10,000 diodes, distributed in 2,500 areas. This allows the screen brightness to be adjusted with great precision, dynamically and with a higher power – we speak of light peaks at 1600 nits (candelas per square meter). It is common to admit that a screen, to be readable in direct sunlight, needs 500 to 550 nits. The iPad Pro M1 can deliver 1000 at full power and therefore 1600 per key, when the content is suitable. We quickly think of reading files in HDR, or even processing these files directly on the iPad, which supports the Dolby Vision HDR10 and HLG standards.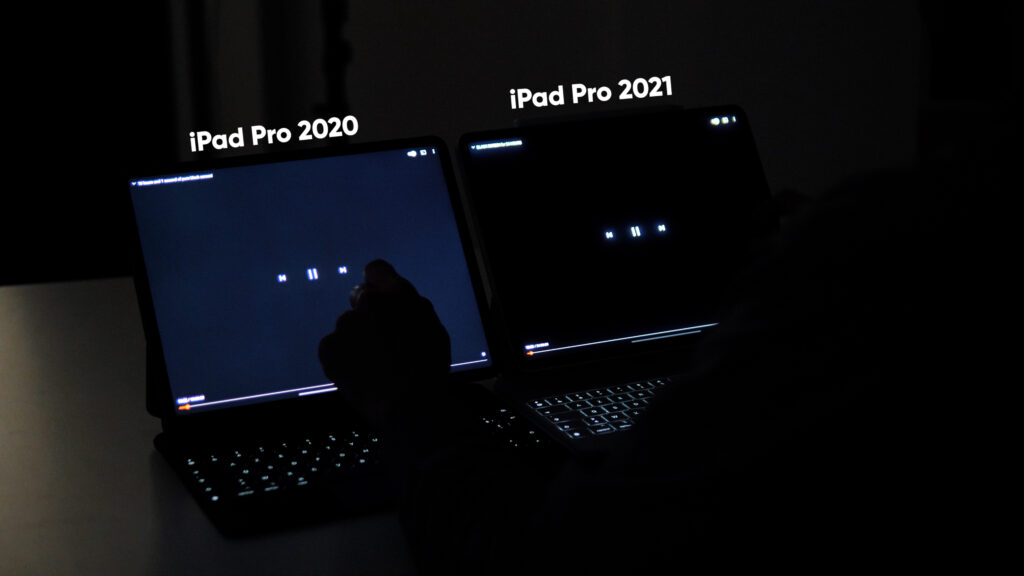 In practice, you'll have near-perfect lighting dynamics when watching – or editing – a compatible movie, from crisp, detailed shadows to bright peaks in the great outdoors. We experienced it: the same video played on a 2021 iPad Pro M1 and a 2020 iPad Pro shows this. The same goes for subtitles, for example black on white, which, thanks to this backlighting by zone, stand out perfectly. This contrast is also enhanced by the opposite of brightness: dark areas. With a backlit display, black is always whitened, in a sort of shade of gray that is perfectly seen on the screen of the iPad Pro of 2020. With a mini-LED display, the backlight by zone allows to turn off the lights. black areas and produce a contrast of 1,000,000: 1, with deep black.
Beyond this perfect factory calibration (au standard P3) which will undoubtedly appeal to image professionals, there are also very wide viewing angles, which darken or hardly modify the colors of an image on the screen. One detail, but one that can change a meeting when you're a designer, illustrator or photographer: the person next to you sees exactly the same screen as you.
An M1 processor ready for the future
With an M1 processor, an iPad Pro becomes an on-board power level competition beast. We praised the performance of this processor in our MacBook Pro and iMac M1 review: it's the exact same little chip capable of ridiculing multi-threaded monsters on heavy-duty specific tasks that powers this 2021 iPad. On Apple's mobile system, the applications that really take advantage of it do so differently: we think of the use of LiDAR or the many professional applications for drawing and photo editing – the Adobe suite is almost complete.
IPads already had pretty impressive battery life, so the jump from the A-line processors (the iPhone's) to the M-line isn't as shocking as going from an Intel MacBook to an M1 MacBook. And even, in crude terms, Apple only guarantees a "full working day", or around 10 hours – which we found. A MacBook (Pro) with M1 processor can display up to double the battery life. The battery of the touch pad barely compensates for the increase in power announced by Apple.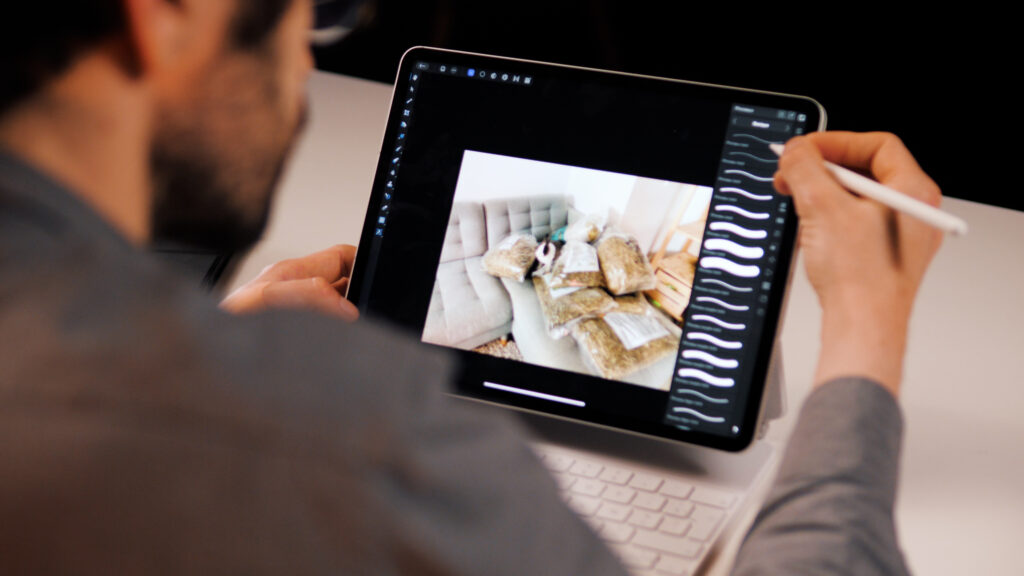 Side telecommuting, since the word is on everyone's lips, Apple has included in its 2021 iPad Pro a camera (still poorly placed for landscape use) that allows you to track your position. Convenient for giving standing presentations to an assembly or changing position in a meeting. With the right mics on the iPad Pro, it makes teleconferencing less static, and long meetings are more flexible – especially on your back. We regret that not all apps have yet integrated the option – Webex and FaceTime do, but not Google Meet.
But we can only notice that we are sometimes hungry for lack of things to test. This processor capable of encoding videos or rendering Cinema 4D better than some high-end machines must deal with an operating system based on applications that are certainly powerful, but not as demanding in terms of resources as those offered by a "computer" environment. We even wonder if the M1 processor is used at full power at a single moment, since open applications do not accumulate as much on iOS as on macOS. So of course, we remain amazed to see that in 2021, a touchscreen tablet equipped with a LiDAR and such a processor is capable of creating in 3D, in real time and without access to a remote server to perform the calculations, a entire apartment, textures included. But an iPhone 12 Pro does that too.
Without a doubt, applications will demand a great deal of power that the iPad Pro can provide, and its limits will not be reached quickly, which bodes well for the product's durability. But even iPadOS 14.5 still seems a bit behind when compared, inevitably now, to macOS. For a person used to working on an Apple computer, this is quite a challenge. workflow that must be rethought, by switching from app to app and managing files using share buttons. The power user macOS will not find its account to transfer its habits, but that is, obviously, not the purpose of this object: it is intended for other uses.
Still, by integrating an M1 processor into an iPad Pro, Apple is deliberately blurring the lines in its range. The subtext states that the two machines are equipped in the same way, but they are not, in practice, perfectly exchangeable. The iPad Pro isn't a touchscreen Mac with a nice camera, and that's what we keep telling ourselves all the time when testing the product: few professional uses overlap. An illustrator cannot draw on a Mac. An airplane pilot does not need a keyboard for his or her flight documents. A craftsman must be able to draw plans on the fly, measure distances and take pictures of his site.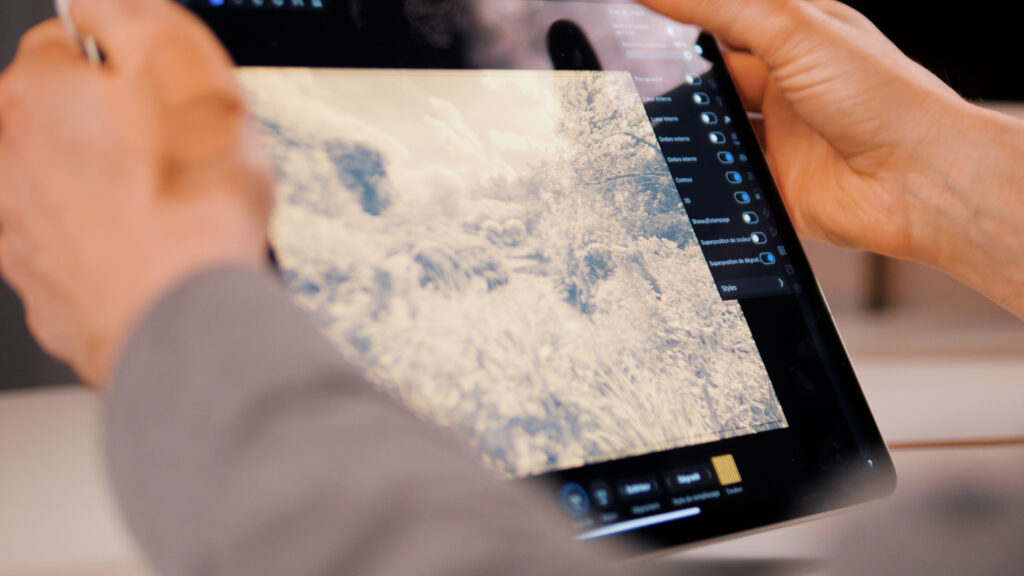 Between these two radically different types of use, there remains a gray area that cannot yet be decided. A photographer will have on iPad Pro an ultra precise touch interface with a stylus and very effective for editing a photo. But it will have on a MacBook Pro a much more efficient tool to manage dozens of photos in batches, save your work on a NAS, display your snapshots on a third-party screen, etc. In our journalistic profession, we also have this ambivalence: the iPad is a very good typewriter thanks to the Magic Keyboard, which even allows an appreciable focus on a single task. But when it comes to using a professional back office, quickly editing photos, showing five or six windows at the same time, or participating in a video chat while following a document, the Mac is more efficient.
How to guide a reader in this case? Difficult to say, and it is to Apple that we would like to ask the question. If we look at our crystal ball, we can easily imagine that the next version of iPadOS, which could be presented at the WWDC conference dedicated to developers, will take the iPad M1 to new horizons. While waiting for it, it will be necessary to know its blind spots to better appreciate its qualities.
IPad Pro M1 is available in pre-order from € 1,219.
In short
iPad Pro M1 (2021)
Note indicative : 4/5
The iPad Pro M1 launched in 2021 radicalizes Apple's proposal for the high-end touchscreen tablet. You can legitimately ask yourself the question of its usefulness in your workflow and if the answer is yes, this year's iPad Pro will meet your needs better than ever. Otherwise, it is clearly a tool that is far too powerful and versatile today for the general public use of such a device.
There remains the in-between: some professions will not be able to decide at all whether an iPad can replace, for them, the experience of a computer. Because the tablet does some things better and others less. We expect the next version of iPadOS, perhaps, to bring more versatility to the iPad universe. And with a powerful M1 processor under the hood, the way is clear.
Top
Powerful and luxurious
The sublime screen
Stylus, LiDAR, M1 processor: very specific professional uses
Bof
Very bright areas overflow with high contrast
We feel iPadOS behind the product
Accessories are expensive